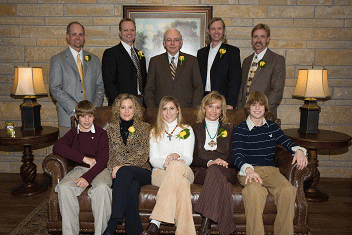 Duncum Center Solutions is a division of  Abilene Christian University.
For many years, Abilene Christian University offered a variety of classes in conflict management through the College of Arts and Sciences' communication and psychology departments and the College of Biblical Studies. In 1999, these courses were pulled together and ACU offered its first Graduate Certificate in Conflict Mediation program.
Due to the vision and generosity of Robert J. "Jerry" Strader and his wife, Patsy, the Center for Conflict Resolution was created in August 2000. Housed in a single office on campus, the center assumed direction of the graduate certificate program and began providing outreach services in conflict management, prevention and resolution. Since its inception, the center has grown in visibility in secular and religious communities throughout the United States and the world.
In 2001, the center formed the Alternatives in Mediation (AIM) program, a free service to ACU students that encourages the spirit of peacemaking. In 2002, the center partnered with the Better Business Bureau to form the West Texas Mediation Center, a low-cost dispute resolution service for businesses and customers to resolve commercial conflicts.
Through the generosity of John and Diane Duncum, the center moved off campus to a store-front location at 809-B Judge Ely Blvd in 2005. Early in 2006, the center formed Positive Solutions Institute, an in-house consulting group that provides conflict analysis, training, and mediation services to individuals and organizations.
In the fall of 2006, the center began offering a Master of Arts in Conflict Resolution and Reconciliation. That same fall, a long-time dream for the center and the Duncum family (pictured above) became reality when the ACU Board of Trustees approved construction of the Diane and John Duncum Center for Conflict Resolution on property adjacent to the main campus.  The generous gifts from the Duncums and other friends underwrote the 7,000 square foot facility that we call home today.
In 2010, John Duncum endowed the center's operational fund and the Center for Conflict Resolution proudly adopted its new name: the Duncum Center for Conflict Resolution. Five years later, the Duncum Center for Conflict Resolutions rebranded under the name Duncum Center Solutions to reflect it's growing menu of services to leaders and organizations.
Building on a growing demand from organizations, Duncum Center launched iDea Lab in 2017 to provide learning and development resources in a welcoming, supportive, community. iDea lab leverages the university's academic strengths, knowledge of learning processes, and creative environments to serve working professionals. iDea Lab provides holistic learning and development opportunities and solutions at individual, team and corporate levels in the ACU Dallas state-of-the art space.
In 2018, Duncum Center expanded again to provide instructional design, course building, quality assurance, and resources related to to online teaching and learning to ACU Online's College of Graduate and Professional Studies (CGPS).