Joe L. "Joey" Cope, JD
Dean of the College of Graduate and Professional Studies & Associate General Counsel, Dallas Campus

Joey is responsible for building and expanding the Duncum Center for Conflict Resolution and Duncum Center Solutions. He currently serves as Dean of the College of Graduate and Professional Studies and Associate General Counsel, Dallas Campus. A mediator for more than 18 years and a practicing attorney for more than 30 years, Joey served the Duncum Center as founding executive director from 2000 – 2017, casting vision for the organization while serving as the center's lead trainer and consultant.
He also serves as an associate professor in Abilene Christian University's (ACU) graduate programs in conflict management and resolution and has served as an adjunct professor for the Straus Institute for Dispute Resolution at the Pepperdine University School of Law, the William H. Bowen Law School at the University of Arkansas – Little Rock, and the Southern Methodist University Center for Dispute Resolution and Conflict Management.
Lori Anne Shaw, MS
Executive Director
Lori Anne Shaw has served at Duncum Center Solutions at ACU since 2007. As executive director, she oversees the instructional design team, provides strategy and partnership for professional development programs, and is a practicing workplace mediator. Lori Anne is also the organization's lead trainer with experience providing training and leadership retreats around the U.S. for Fortune 500 companies, small non-profits, and across the globe in Kenya and Rwanda.
Lori Anne has served in ACU's online academic programs since 2007 working in Master of Arts in Conflict Management and Resolution program as an online course developer, the practicum coordinator, and as an online course facilitator in Negotiation and Mediation, Managing Conflict in Schools, Managing Conflict in the Workplace, Communication and Conflict Theory, and Advanced Mediation courses. She also served as co-trainer for program's Conflict Resolution Residency Session – a five day, practice-based negotiation and mediation training, and the 40-Hour Basic Mediation Training.
Lori Anne served three years as a board member for the Texas Association of Mediators, five years as a officer for the Texas Mediation Trainers Roundtable, and is currently serving on the board of Come before Winter. See Lori Anne's curriculum vitae or connect with her on LinkedIn.
Amanda Buckley, MA
Assistant Director for Instructional Design & Development
Amanda manages the course development process for the Duncum Center instructional design team. She works closely with program directors and faculty in the College of Graduate and Professional Studies to ensure best practices for online teaching and learning, including accessibility for all students. Always focused on providing the highest student experience possible, Amanda has created numerous trainings on our learning management system to support faculty and staff.
Amanda also serves as instructional design lead to help faculty develop course materials, troubleshoot issues, and make updates to their courses.
Working in higher education since 2013, Amanda previously served ACU Online as a graduate admission advisor recruiting and supporting masters and doctoral students. She earned her Master of Arts in Education from the University of Phoenix and her Bachelor of Science from Iowa State University.
Noelle Euan, MBA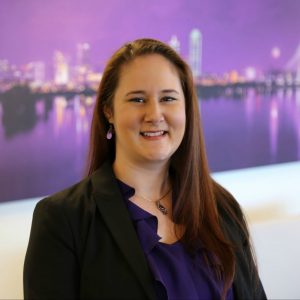 Instructional Design Specialist
Noelle serves as the lead instructional designer for iDea Lab, a division of Duncum Center that provides professional development at individual, team and corporate levels. She also serves the College of Graduate and Professional Studies by responding to faculty course tickets, identifying needs, and creating training assets.
Working in education since 2009, Noelle previously served ACU Online as a new student ambassador supporting new online masters and doctoral students. She earned her Master of Business Administration from the University of Phoenix and her Bachelor of Science from the University of Texas at Arlington.
April Henry
Administrative Coordinator
April serves as the administrator coordinator. In addition to managing payment processes, April manages textbook support for faculty for the College of Graduate and Professional Studies.
Previously, April served as site administrator for ACU at CitySquare and Ashby Commons. April has also managed space rental and served as iDea Lab's lead hospitality specialist welcoming and supporting guests who utilize our training and conference rooms.
April received her Bachelors of Science degree in Human Development and Family Studies from the University of North Texas in 2015, and is currently a graduate student in the Marriage and Family Therapy program at ACU.